By now, most people are aware that walnuts are not only delicious but also offer many benefits to their health. People consider it as a special ingredient in sweets, salads, cooked foods, ice creams, etc., but eating walnuts directly offers some great nutrients for the human body. Now the Walnuts wholesale price in India is very reasonable so that you can purchase them in a huge quantity for the entire month on a single visit to the market.
The Importance of Walnuts in Daily Life:
Walnuts are well known for boosting brain function and also increasing memory power. But have you bought walnuts from the market after understanding their importance in daily life and looking for different ways to include them in your diet? Here we will discuss the multiple ways to utilize them in your daily life.
Consume walnuts in any form
There is no particular method or process for eating walnuts. You can consume these dry fruits directly or add them as a special ingredient in any dish. One of the best ways to eat walnuts is by soaking them in water for one whole night and then consuming them the next day at any time, be it the morning during breakfast or afternoon lunch. Just soak 3-4 pieces of walnuts in fresh water, take them out in the morning, and consume them directly.
Chutney made with walnuts:
Why should you always make chutney with ground nuts or any coconut when there is scope to make a delicious chutney with walnuts? You can roast walnuts in oil, then combine them with lemon juice, garlic, salt, and grind them to make a delicious chutney for tiffins or snacks.
Walnuts for stuffing:
If you are thinking of eating milk or wheat bread, stuffing the walnuts in between two slices of bread and consuming them gives you a wonderful experience. Walnuts can also be used as stuffing in Rotis or paranthas. By doing so, you will not only eat light food but also gain more energy. Stuffing walnuts inside a parantha makes it crunchier.
Using Walnuts for Garnishing
Is it the first time you've thought that walnuts could even be used for garnishing? Then you will know how to enjoy the delicious nut. Take some walnuts, remove any dust particles, and toast them lightly. Put them in an airtight container right after toasting so they won't become hard. Whenever you make any salad or dessert, you can use walnuts for garnishing.
A beautiful ingredient for smoothies
Are you planning to prepare delicious smoothies during your holiday? Then you should think of making it more delicious by adding a few extra ingredients. Grind dried walnuts along with the other ingredients while making a smoothie. It will not only taste good but also add some additional nutritional value.
Toffee with walnuts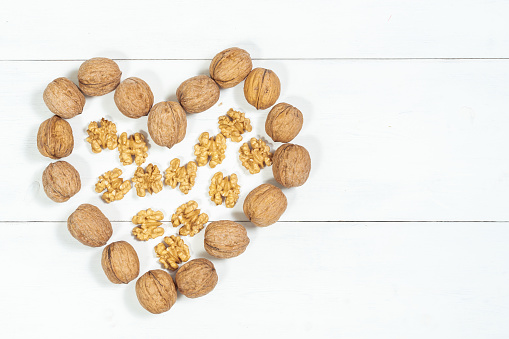 There are many chocolates available on the market with walnuts stuffed in them in multiple forms. You can even make your own toffee by using walnuts. Let's take a look at the best way to make toffee with walnuts:
1. In a bowl, combine cocoa powder and natural honey. Then, grab some walnuts from the container.
2. In a mixing bowl, combine the honey and cocoa to make a thick, sticky paste. Later, add some walnut pieces to the paste.
3. Once you are done with mixing the paste and walnuts, move the paste to an air-sealed container.
4. In this way, you can prepare toffees of the size you need and use them during journeys or between meals.
Use walnuts in meat dishes
Do you want to know how to use walnuts in meat dishes? Here is the most ideal way to do as such. By baking either fish, chicken, or mutton, you can make a healthy and crunchy crust on the chicken. Walnuts can be used either directly on the meat, or you can mix them with breadcrumbs.
You can add more flavor to the meat by adding well-toasted walnuts on the top of the meat dishes, be it a curry, fry, or crunch. The California walnuts price in India will tempt you more to grab the walnuts in bulk so that you can use them frequently in your daily life.
Conclusion
If you're tired of eating walnuts on your own, start incorporating the methods we've discussed for adding walnuts to a variety of dishes into your daily life. You can eat them at any time, but it is recommended that you eat them in the morning because they contain high levels of antioxidants, which can boost your immunity.
Soaked walnuts are very healthy, and you must consume them if you are on a diet for weight loss. These nuts contain high amounts of omega 3 fatty acids that promote good heart health and lower blood pressure.
Read More:- Best Wooden Spoon for Cooking: Special Touch to Your Mealtimes